Was bietet unser Masterangebot?
Die Medienfakultät der Hochschule Offenburg bietet mit dem viersemestrigen Masterstudiengang Medien und Kommunikation (MuK) die Möglichkeit, Kenntnisse in der Mediengestaltung, des Medienmanagements, der Medieninformatik und der Medientechnik zu vertiefen.
Das wissenschaftliche und zugleich anwendungsorientierte Masterangebot der Fakultät Medien bietet sehr breite Vertiefungsmöglichkeiten – von der Softwareentwicklung über die Filmproduktion bis hin zur Corporate Governance. Je nach Vertiefungsrichtung kann der Abschluss Master of Science oder Master of Arts erworben werden.
Der Masterstudiengang steht allen Studierenden offen, die einen Bachelor-Abschluss in einem medienaffinen Studiengang erworben haben und eine interdisziplinäre Qualifikation besitzen. Durch die Kombination der unterschiedlichen Module ist ein Studienbeginn sowohl im Sommer- als auch Wintersemester möglich.
Studierende sagen über den Studiengang:
"Auch in den Marketingfächern wird der Schwerpunkt auf praxisnahe Inhalte anstatt auf Theorie und Statistik gelegt."

Marlene Kraushaar

"MuK bietet mir die Möglichkeit ganz individuell meine Schwerpunkte im Studium zu setzen. Besonders gefällt mir, dass ich einen Mix aus Gestaltungs- und Marketingmodulen wählen kann."

Sophie Yang

"Das coole an MuK ist: Man muss nicht alles können, es gibt genug Inhalte, dass man die Sachen weglassen kann, auf die man kein Bock hat."

Alexander Weigand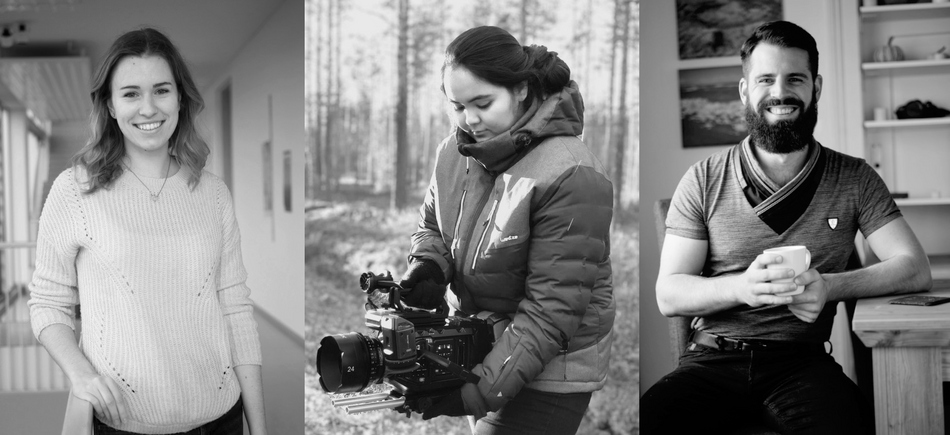 Der Master-Studiengang Medien und Kommunikation fordert von den Studierenden ein hohes Maß an Kreativität, Reflexion und eigenständigem wissenschaftlichen Arbeiten, das unterschiedliche mediale Themengebiete erschließt und bewertet.

Die Professorinnen und Professoren des Master-Studiengangs Medien und Kommunikation initiieren und fördern mit einem hohen Grad an Wissens- und Gestaltungsreflexion bei den Studierenden eine sowohl künstlerische als auch wissenschaftliche Auseinandersetzung, die zu einer selbstbewussten Handlungsteilnahme in den vielfältigen medialen Prozessen in der Gesellschaft führt.
Ähnlich wie der Bachelor-Studiengang Medien und Informationswesen verfolgt das Master-Programm Medien und Kommunikation einen interdisziplinären Ansatz, in dem die Studierenden ihre Kompetenzen in den Feldern Medieninformatik, Mediengestaltung, Medientechnik und Medienwirtschaft vertiefen und mit interdisziplinären Anteilen aus E-Learning und Medien in Bildung und Personalentwicklung kombinieren können. Die Studierenden qualifizieren sich damit für gehobene Fach- und Führungsfunktionen in der Medien- und Informationsindustrie.
Die möglichen Berufsfelder für Absolventinnen und Absolventen des Master-Studiengangs Medien und Kommunikation stimmen weitgehend mit denen des Bachelor-Studiengangs Medien und Informationswesen überein. Der erworbene hohe Grad an Fähigkeit zu eigenständiger Arbeitsweise führt Master-Absolventinnen und -Absolventen jedoch noch stärker an Aufgabenstellungen mit Führungsverantwortung heran. Mit dem Titel Master of Science beziehungsweise Master of Arts stehen den Absolventinnen und Absolventen zudem die Türen zur internationalen Medienbranche und zu einer Promotion offen.
Mögliche Berufsfelder sind beispielsweise:
Führungspositionen in Medienunternehmen (Zeitung, Hörfunk, TV-Sender, Agenturen etc.)
Projekt- und Produktmanagerinnen und -manager Online-Medien und Mobile Medien, E-Commerce, Social Media, Virtual Reality und Bildung
Softwareentwicklung und User Interface Design
Beratung im technischen Dienstleistungsbereich
E-Learning Autorinnen und Autoren
Personalentwicklung und Training
Promotion und wissenschaftliche Laufbahn (empirische Forschung, Lehrentwicklung)
Selbständigkeit im Medienbereich
Produktentwicklung im Onlinespielebereich/App-Entwicklung
Verschiedene Positionen in der Filmproduktion (Drehbuch, Kamera, Regie, Produktionsleitung etc.)
Konzeption, Text, Contentgenerierung, Unternehmenskommunikation (Werbeagenturen, KMU und Konzerne)
Medienpädagogik und Mediendidaktik (politische Bildung, Museen, Verbände, Medienzentren, Kirche etc.)
Der Studiengang steht allen Bewerberinnen und Bewerbern offen, die einen medienaffinen Hochschulabschluss mit der Note 2,5 oder besser vorweisen können. Die Bewerbung muss spätestens zu zwei Stichtagen im Jahr eingereicht werden:
15. Januar für das darauffolgende Sommersemester
15. Juli für das darauffolgende Wintersemester
Das Bewerbungsverfahren kann Schritt für Schritt online im Bewerbungsportal durchgeführt werden.
Zur Bewerbung selbst muss noch kein fertiges Zeugnis vorliegen – eine Bewerbung ist also auch mit einem vorläufigen Zeugnis möglich. Bis zum 28. Februar beziehungsweise 31. August muss das Studium jedoch erfolgreich abgeschlossen sein.
Für die Bewerbung ist auch ein Online-Portfolio einzureichen. Es handelt sich dabei um maximal drei wissenschaftliche und/oder künstlerische Arbeitsproben. Diese Proben bitte über einen Weblink per E-Mail an heike.dietrich@hs-offenburg.de senden.
Das Portfolio kann Arbeitsproben im Bereich der Mediengestaltung Zeichnungen, Websites, Animationen, Filme, Audio und so weiter enthalten. In den Bereichen Medienbetriebswirtschaft (beziehungsweise Medienmanagement) oder Medieninformatik enthält es beispielsweise schriftliche Ausarbeitungen, Projektbeschreibungen und -ergebnisse oder realisierte Software inklusive Dokumentation.
Die enthaltenen Ergebnisse können dem vorangegangenen Studium entstammen, zum Beispiel Bachelor- oder Semester-Arbeiten; sie können aber auch außerhalb des Studiums erstellt worden sein. Bitte bei Einreichungen von Teamarbeiten den eigenen Anteil kenntlich machen.
Degree
Master of Science (M.Sc.)
Master of Arts (M.A.)

Language of instruction
German
Duration of program
4 Semesters
Beginning of study program
Summer and winter semester
Registration Deadline
January 15 / July 15
Tuition and fees
As of the 2017/18 winter semester, the following state tuition fees apply:
- EUR 1500 per semester for international, non-EU students
- EUR 650 per semester for students pursuing a second (non-consecutive) degree in Germany
For detailed information, click here.
Requirements
Completed Bachelor's degree
Internship
Not required
Selection procedure
Yes
Accreditation
Yes
ECTS
120 credits
Wichtige Links

Bestimmungen über den formalen Ablauf von Studium und Prüfungen sowie über die Zulassungsbedingungen zu Prüfungen
Inhaltliche Beschreibung der Lehrfelder des Studiengangs
Gute Gründe in Offenburg zu studieren